Optimize Coach Class II
Let's change the world. One person at a time. Together. Starting with you and me. TODAY.
My beloved fellow Optimizer:
I'm typing this with tears in my eyes.
As I was thinking about how to best describe what our Optimize Coach program is all about so I could invite you to join us for Optimize Coach – Class II, I watched this little video of some of our Class I Masters and Coaches sharing their stories and realized I needed to let THEM tell you what the program is all about…
(Love you Tara, Landry, Destiny + Marc, Heather, David + Charlenia, Lori, Justine, Khaled + Asma, Sarah, Diane, Igor and Leo!!!)
(btw: In addition to inspiring me with their stories, I was also struck by how this small group of Optimizers happens to beautifully represent the geographic breadth of our Coaches. Our first class of 1,000+ Coaches came from 50+ countries. This group alone was from the USA (6 different states), New Zealand, Canada, Brazil, and the Ukraine!)
Then I watched this video and my soul opened at the radiant beauty of our beloved Wendy.
(Wendy: I'm so moved by you and your courage and honored to be a part of your life—connecting with you and your husband was a highlight of not just our graduation weekend but of my life.)
So…
Yah…
I couldn't be more inspired to invite you to join us for Optimize Coach – Class II.
As Wendy playfully said, "If you have any other questions I'll answer them, but I think we're good." (HAH! So good. And so true.)
And…
(We'll get to the details of how you can actually join the class of 2020 in a moment!)
Right after I watched those videos, I opened up a document with a collection of amazing notes that our Optimize Masters and Coaches shared on Optimize Social over the course of the program.
Like this:

And this:

(Kerry!!! Anthony!!!)
Then I opened up this collection of 101+ notes from our Class I Coaches.
We asked: "How has the Optimize Coach program made a difference in your life? And why do you think others may enjoy it?"
This is a sample of what they said.
That collection features notes like this:
"Optimize Coach (the mastery half) has allowed me to properly get my arms around the depth and breadth of material that Brian has assembled over many years.

To make literally thousands of years of philosophy and life lessons accessible in small, related postings is an amazing achievement – but as a resource is overwhelming. To add contemporary works of science, philosophy and life and cross-reference these into ancient wisdom is even more of a feat.

The Coach program, as I had hoped, has allowed me to "come up to speed" on Brian's research and knowledge. Applying it will be a lifetime work, but the program has allowed me to feel comfortable navigating it and understand it's potential to impact my life.

Optimize has already transformed my life in many ways, but I know I have only scratched the surface (as you would expect with only 10 months of true execution of hundreds of years of knowledge).

I am more disciplined – especially in the areas of Energy (movement, hydration, sleep – and soon nutrition which I have chosen to research further before making radical changes).

I am more self-aware – of my weaknesses and poor choices, but also of when I am operating at my best. This allows me to do less of the bad, and more of the good – leading to "higher lows"!

I am amazed at the basics which have changed – my breathing – the pure essence of life – is more conscious for a large part of the day. Who knew you could breathe wrong – but you can.

My meditation is stronger, due to discipline around timing – building strong triggers for habits, and not allowing myself easy outs.

My spirit is stronger – ironically I am developing faster by being less hard on myself – building "higher lows" (again).

I am more consistent, in so many ways – because much of the Coach program is about being consciously aware of what you are doing; good, bad, effective, ineffective, lazy, energized.

Awareness. Decisions. Actions. Re-actions (when you get off path) and Reflection (for when you miss things in the moment) – these are the key areas of change for me, and they all have profound impact.

By far the best "self development" or "life coaching" investment I have ever made – at any price.

Detailed, specific, actionable and effective." ~ Nigel Brownjohn from Centennial, Colorado
And this…
"I joined the Optimize Coach program for self-mastery – myself as Client Zero. After a long history of showing up in a big way for other people but wandering away from my own goals and dreams time and again, I started the program with something to prove to myself.

As we approach the end of the program, it's hard to find the words to articulate how much it's meant to me so far. Habits I'd tried and failed to form so many times – meditation, journaling, packing my lunch – all the things I thought I SHOULD be doing (maybe starting tomorrow, right?), are now part of every day. I've built trust in myself.

My victories are kind of quiet. And yet. And yet, they've rocked my world. I've lost 17 pounds. I climbed the Space Needle stairs. . . for fun. I have dared to show up and flat-out suck at something I care about, on the path to joy and mastery. When a family member unexpectedly asked for advice, I was ready with so much relevant wisdom to offer from this program. He became Client 0.5.

The connection with fellow coaches is priceless. My swim buddy and I haven't met in person yet, but I know we will someday. The daily personal connection with others who can see a better world and are committed to making that happen in their own idiosyncratic way keeps hope alive and well." ~ Cathy Dodd from Kirkland, Washington
And this…
"I have a super busy life taking care of others (Full time teacher, wife, mom of 3, caregiver to aging parents) I have little energy for myself at the end of the day. Joining the coach program, has made me realize that when you don't feel like doing something, that is the time you must do it.

I have learned how important the fundamentals are and really took the energy component seriously… which was the key to everything else! My sleep went from 5 hours a night to 8+, I "found time" and embraced yoga and have dropped 15 pounds and 2 sizes. At 55, I am flexible, healthy and vibrant and look 10 years younger because I am sleeping!

In my job, I relabeled myself from art-teacher to coach, and use the Optimize philosophy to transform my middle-schoolers beliefs and identities. They are creating at a much higher level in a shorter period of time than ever before! Home life is better too, still hectic, but I am learning how to work within the boundaries of constraints.

As I continue to listen to the necessary repetitiveness of Brian's philosophies, I am so inspired each and every day to live this new way of life I have been shown. Brian doesn't know me, but is passionate about my success…I feel that! It comes out loud and clear in his teaching/coaching! It's weird, but you kind of don't want to let him down, because you know that when someone believes in you that much, you begin to believe it as well…and then backing it up with action becomes natural!

Side Note: The accountability component of the Swim Buddy and the Optimize Team Spartan Race/Graduation is invaluable!!!" ~ Julie Steiner from Reno, Nevada
So…
Let's just say that reading all the stories and seeing all the pictures of radiant Optimizing awesomeness might have turned on the misters bright and early here in Ojai. 😍
PLUS…
I'm still buzzing ten days after our inaugural Optimize Coach graduation weekend. (Hah. Seriously.)
It's hard to put into words just how powerful it was to get together with 500+ of our 2019 class of Coaches after a year of working together. The Soul Force was strong. 🤓
(We'll be sharing a bunch of the awesome from the weekend. For now here's a collection of Spartan Race photos that make my soul smile every time I look at them. And one of our Coaches captured some of the energy in this collection of photos!)
And…
As I said in a recent email, I pretty much feel like these guys as I get ready to invite you to join us in our next class Optimize Coaches.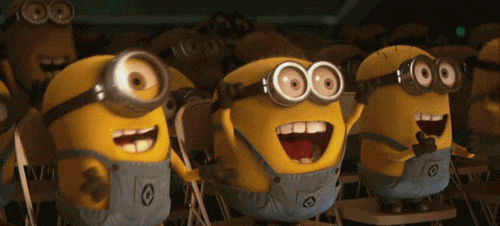 (Hah.)
So…
(That was a crazy long prelude, wasn't it? Feels appropriate though as I'd rather have those 1,000+ Optimizers (from those 50+ countries!) who went through our inaugural Optimize Coach program tell you in THEIR words what their experience was than have me try to do it. Moving on…)
*Clears throat* 🤓
Are you ready to make 2020 THE GREATEST YEAR OF YOUR LIFE (AND the start of the greatest DECADE of your life!) by closing the gap between who you're CAPABLE of being and who you're ACTUALLY being by moving from Theory to Practice to Mastery and giving the world all you've got?
Fantastic.
That's what our Optimize Coach program is all about.
Our primary focus is helping YOU be a radiant Optimizing exemplar, developing Self-Mastery and being your best in Energy, Work, and Love.
And, of course, we'll work on becoming world-class Optimize Coaches so that we can support those around us (whether clients, colleagues, family members, or friends) to do the same.
Our 2020 programs kick off soon.
Here's the (reasonably) quick overview.
---
Optimize Coach
Optimize Coach: Who's It For?
Based on what we learned from the 1,000+ Coaches from our inaugural class, the Optimize Coach program is for two basic categories of people:
Masters. Individuals who want to live their most heroic lives by mastering themselves and the Optimize perspective while integrating the wisdom gained from the program into their various leadership roles—from entrepreneurs, CEOs, venture capitalists, military leaders and HR executives to therapists, school principals, yoga teachers, personal trainers, and world-class moms.

Coaches. Individuals who want to live their most heroic lives by mastering themselves and the Optimize perspective while integrating the wisdom gained from the program into their new or existing coaching practice.
Pretty much exactly HALF of our first 1,000 Optimize Coach participants did the program simply to Optimize their own lives. While the other half did it because they wanted to be better at coaching others personally and professionally.
Whether you're joining us as a Master or as a Coach, the most important thing we'll help everyone do to boost their professional success and personal well-being (whether that's the CEO or the Coach or the Mom) is to move from Theory to Practice to MASTERY—closing the gap between who they are capable of being and who they are actually being to become a radiant Optimizing exemplar, heroically giving their greatest gifts in greatest service to the world.
And… if you are inspired to create a coaching business (and/or to take your practice to the next level), we have a Coaching Skills track to help you master the process of using the Optimize protocol to help others actualize their potential.
Note: We love getting notes like this from Coaches:

Tracking the habits, developing the algorithms and sharing the wisdom for living a life well-lived has always been my mission, but now having the ancient wisdom, science-backed knowledge and the practical tools to explain, inspire, coach and guide others. This was the most difficult coaching certification I have ever achieved, but also the most rewarding……it was not just about the learning but about the doing and coming out the other side becoming that best version of myself so that others feel inspired to do the same!!
And:
Note2: We've also had a number of people tell us that, although they already had multiple coaching certifications from other leading organizations, they didn't feel prepared to coach until they went through our program. (!!!)
Plus this video from Tara and her mom is pretty awesome.
Optimize Coach: Who's It NOT For?
Our program requires a very high-level of consistent performance. We are going to demand that you do your best to show up as your best. As such, this program is not for the faint of heart and/or anyone looking to get a quick certificate that somehow magically makes them money. (lol)
(When I first typed that sentence, I looked up the etymology of the word demand. It's from the Latin de(which means "formally") and mandare (which means "to order"). Yep. That's about right.
We'll partner with you + your inner daimon and formally order all of us (myself, of course, included!) to step up and into the next-best version of ourselves and do the hard work to actualize. If that doesn't sound like an epic way to spend our time together (and the rest of your life), this isn't for you.)
(btw: One of the last PhilosophersNotes I created was on John Maxwell's Leadershift. The book is awesome (and relevant for our work together) for a ton of reasons but I thought this quote was perfect for this section and our shared desire to hold one another to our highest standards: "Ralph Waldo Emerson said,'Our chief want in life is somebody who shall make us do what we can.'")
The 10-Month Optimize Coach Program
The Optimize Coach certification training program is 10 months long. (Technically, it's 300 days long. Yes, that's a nod to our ancient Spartan Hērōs.)
Day 0 = The Day You Decide to Go All In (Today? 🤓)
Registration for the Optimize Coach-II program closes on February 1st, 2020. So, if you're feeling it, sign your Declaration of Independence and let's do this!
NOTE: The first 101 people who sign up will have a chance to win a free 1-on-1 session with me/our Head Coach Michael Balchan.
Day 1 = February 11th, 2020. Our first Soul Force Forge session. (More on that below.)
Day 298 = December 4th, 2020. Gather with your fellow Optimize Coaches for an epic (goosebumps) weekend of awesome.
Day 299 = December 5th, 2020. We all do a Spartan Race together in Los Angeles. (That would be You, Me and Alexandra (I love my Wifey!), Head Coach Michael (look at this guy!), Team Optimize (a few of our behind-the-scenes Team members!) and our community of Optimize COACHES (← look at all of these awesome humans!)!! 🤠)
Day 300 = Day 1 = December 6th, 2020. A special graduation Declaration ceremony to celebrate the greatest year of our lives and commit to changing the world together.
Note: An important part of our Optimize Coach program will be raising our standards in all aspects of our lives and stepping up to our heroic potential. A big part of that will be truly mastering our Big 3 framework in which we forge new Identities and become our optimus best with our Energy, Work and Love. A big part of that will be stepping up and into an "Athlētē" persona.
Of course, that will mean different things for each of us, given whatever personal limitations we may have. But, you at your Energy best? You're an Athlete. Period.
For those of you inspired to demonstrate that by participating together in a Spartan Race, let's do that.
For everyone else, you'll be required to demonstrate your athletic best by completing a physical challenge of your choosing.
Fun Fact 1: Last year, Team Optimize was 500+ strong—making us the second-largest team in Spartan history. We plan to break the record with over 1,000 Optimizers in 2020. (So fun.)
This video captures the energy at the Starting Line pretty well. 🤓
Fun2: Joe De Sena (Founder and CEO of Spartan Race) has become a friend-brother and will be joining us as a featured Luminary to Coach us a bit as we all get in THE best health and fitness of our lives together.
Fun3: We said, "Thank you, Joe!" with every burpee we banged out in our Race together. Then we created this fun little "Thank you, Joe!" video. 🙂
Fun4: Joe interviewed me at the Spartan World Championships: Brian Johnson tells Joe De Sena how leaders can Serve Profoundly
Fun5: Doubting that a Spartan Race is for you?
Well… That's kinda the whole point. lol. We want to stretch your sense of what you at your truly Optimus-best is capable of. If it's truly not a possibility for you, we'll figure out an alternative.
But check this out:
(JULIE!!! You rock. Seriously. That wall climb!! Everything about that video and you = awesome.)
The Program
As important as the Optimize content will be, the focal point of the program will be OPERATIONALIZING all the wisdom into consistent, virtuous behavior—such that your prior best becomes your new baseline. THAT is the hard part. THAT is what we are committed to helping you (and your clients/colleagues/family/etc.) truly MASTER as a result of your participation in our program. And THAT is what will be required in order for you to successfully graduate.
Basically (echo!): Moving from THEORY to PRACTICE to MASTERY as we close the gap between who we're capable of being and who we're actually being as we become radiant Optimizing exemplars, heroically giving our greatest gifts in greatest service to the world.
The program will, of course, be grounded in our Optimize content: +1s, PhilosophersNotes and Optimal Living 101 master classes. (You'll be required to complete a curated selected of 300 +1s, 101 PhilosophersNotes, and 11 Optimal Living 101 master classes.)
It will ALSO feature a brand-new "Optimize Self-Mastery Series."
Imagine me (and our Head Coach Michael) taking the absolute best wisdom from all that Core Wisdom and distilling it into a framework/program that helps you close that gap and actualize your potential.
THAT's what the Optimize Self-Mastery Series is all about.
We'll build on that foundation with 3x per month Soul Force Forge Training Sessions, where we'll connect (in our Zoom-powered video dojo) for a quick talk on my latest thinking followed by live coaching (from me) on moving from Theory → Practice → Mastery and overcoming any obstacles preventing us from being our Optimus best. (These sessions will be recorded in case you're not able to join live, or just want to revisit.)
Throw in some weekly connections with your Optimize Buddy (more on that below), and daily Fundamental practices to Optimize your Energy, Work, and Love, and we have a solid curriculum of Optimizing that operationalizes virtue by integrating the best of ancient wisdom + modern science + practical tools to help you become the best, most heroic version of yourself.
And then, for those of you excited to use the Optimize protocol to help others actualize their potential, too, we'll use our brand-new "Optimize Coach Training Series."
Imagine our Head Coach Michael (and me!)) taking the absolute best wisdom about how to Coach others, both in general and specific to Optimize, and distilling it into a framework/program that helps you help others close their gaps and actualize their potential.
THAT's what the Optimize Coach Training Series is all about.
As you may have guessed, we'll be building on that foundation, too, with 3x per month Optimize Coaching Skills training sessions, where we'll connect (in our same Zoom-powered video dojo) for live coaching (from Michael) on helping others become the best, most heroic versions of themselves.
Time-wise, expect to invest around 300 hours into the program, which roughly breaks down as:
~100 Hours: Core Wisdom + Self-Mastery Series + Coach Training Series
~100 Hours: Live Training and coaching + reflection exercises + swim buddy connections
~100 Hours: Fundamental daily habits and practices
And, of course, the 24/7 commitment to actually being the version of you that you're capable of being.
Optimizing Buddies
Navy SEALs go through their training with a swim buddy. (And then they have a swim buddy throughout their SEAL careers.) Although we'll spare you the Hell Week, we're inspired by both the astonishingly high standards of SEAL training and the importance of having a swim buddy. As such, we will pair you up with an Optimizing Buddy.
Basic idea: You and your Optimizing Buddy will hold each other accountable to your Optimus selves and refuse to accept failure.
Coaches in Class I have told us again and again how powerful this connection has been. (We work very hard to match you up with someone close to and kinda like you. 🙂 Super fun!)
Note1: If you sign up for the program with a friend, we'll pair you together. (If that's what you want!) More details below. (My Optimize Buddy? Alexandra. 😍) (Actually, Alexandra and I each have another Optimizing Buddy: Emerson. He'll be one of our youngest Coaches-in-Training and will be rocking the curriculum as part of his Optimize Schooling. 🤓) (Plus, Alexandra's (awesome!) mom rocked Coach Class I with us. #teamjohnson #allin)
Note2: My friend Mark Divine, former Navy SEAL Commander and author of The Way of the SEAL and Unbeatable Mind will join us as a guest Luminary to share his wisdom. Hooyah!
Note3: We had a couple of former elite special forces guys from the U.S. Army go through the program—a retired Colonel and his buddy from West Point who was a Lieutenant Colonel. When I asked them what the Rangers'/Army's version of the SEALs' "Hooyah!" is they told me it's "Hooah!"
But… They told me they didn't yell much. The Army Special Forces (Green Berets) are the "Quiet Professionals." 😲
They also told me that, although they loved buddying up for the Coach program, they didn't refer to themselves as "swim buddies." That's a SEAL thing. They went with "Ranger buddies." ← Noted. And… Fair enough. I'm not messing with these guys. (Hah! 😲 )
(btw: One of those Rangers is a guy named Mike Erwin. He runs an organization called Warriors Ascent—that helps returning vets (and first-responders) suffering from PTS. Eric Barker, author of Barking Up the Wrong Tree interviewed him. Want to know Mike's thoughts on how to overcome adversity? Check this out: A Special Forces Officer Teaches You 5 Secrets To Overcoming Adversity.)
Note4: In addition to being incredibly inspired to serve elite warriors who serve us, I was also blown away by how many COUPLES and FAMILIES (!!) did the program together. (Goosebumps as I typed that.)
Check out this radiant exemplar Optimize Family. Chloe, Andrea, Harald, and Skylar all (!) did the program together. (Wow.) (Like: Jumbo wow.)

The Investment
Our Optimize Coach-Class II certification program is $1,000.
Yes, we know that most comparable programs cost 5 to 10 times that.
Part of a longer chat (that we start to have here + here + here) but we're a Public Benefit Corporation. We're DEEPLY committed to demonstrating that VIRTUE is not only the right thing to do, but, over the long-run, the most profitable (in every sense of that word) thing to do. And, most importantly for us, the way to fulfill our mission of changing the world, one person at a time, together, starting with me and you.
As part of that commitment, we're committed to giving the best to the most for the least.
Enter: $1,000.
(I also don't like to imagine what would have happened if the price point was too high for someone like Wendy (see video above) to participate so…)
Having said that…
VERY IMPORTANT NOTE: Although we intend to make this the most astonishingly priced program in terms of money invested to return on your life, the cash you invest will be the SMALLEST part of your investment.
Expect to pay a LOT in terms of time and energy and courage and grit and actually DOING THE WORK. 🤓
Carrying on…
Note1: As part of Optimize Coach, you'll also get Lifetime access to the Optimize Wisdom library.
Note2: If you're already a Lifetime member, you'll get to gift a Lifetime membership to a friend!
More details coming soon. But, if you know you're ready, you can sign up today.
As you know, Optimize is my life's work. And supporting our Optimize Masters and Coaches is my (and our) absolute top priority for 2020.
I'm committed to giving you my absolute best to a) help you make 2020 (and the next decade) the absolute greatest year of your life while b) helping you become the most heroic version of yourself so you can most powerfully help others become the most heroic versions of themselves so c) we all have the strength to change the world together.
I'm honored that you're even contemplating the opportunity to join our Optimize Coach program.
Sending love to you and your family.
LET'S! DO!! THIS!!!
-bri
P.S. Of course, if you have any questions, please just let us know. You can send an email to [email protected]

"Never doubt that a small group of thoughtful, committed citizens can change the world; indeed, it's the only thing that ever has." – Margaret Mead
P.P.S. Here's the diploma Declaration our Optimize Coaches receive upon meeting our shared standards and re-committing to live them every day of our lives.
← Want one? Come and get it!! 🤓
P.P.P.S. This morning I was wrapping up my AM1 Deep Work time block. I've been prepping to hit the studio next week (for two weeks straight!) to film the "Mastery Series" that is the cornerstone of our Optimize Coach program.
The Optimize Mastery Series is basically the distillation of all the +1s/PNs/101s into a super practical framework to help us move from Theory to Practice to Mastery so we can CLOSE THE GAP (!) between who we're capable of being and who we're actually being and give the world all we've got.
Then I realized I should record a little video giving you an overview of the Mastery Series and how we plan to help you make 2020 THE greatest year of your life AND the start of the greatest decade of your life.
And, well, here we are.